Kota Semarang sebenarnya mempunyai banyak gedung bersejarah yang bernilai religius, oleh karena itu sayang sekali jika berkunjung ke Semarang tidak mengunjungi bangunan-bangunan religius yang mempunyai nilai sejarah tinggi tersebut. Salah satu bangunan religius yang bersejarah adalah Gereja Gereformeerd. Gereja ini masih aktif sebagai tempat beribadah umat Gereja Kristen Indonesia (GKI).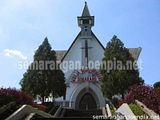 Gereja Gereformeerd Semarang berdiri sejak 27 Oktober 1918 tetapi baru diakui berbadan hukum oleh Pemerintah Hindia Belanda sejak 18 Maret 1928. Pada masa kolonial selain digunakan oleh orang Belanda, gereja ini dihadiri juga oleh umat dari suku Jawa, Ambon, Manado dan Tionghoa. Gereja ini sempat mengalami pasang surut jumlah umat ketika Perang Dunia II berlangsung dan pada masa pendudukan Jepang sekitar tahun 1943, Konsulen (pendeta utusan) Ds de Jong dan keluarganya sempat harus hidup di kamp tahanan.
Gereja yang tampak terawat dengan sangat baik dan mampu menampung sampai dengan 400 umat GKI ini terletak persis di samping Rumah Sakit Karyadi dan bisa dicapai dengan mudah dengan angkutan kota dari arah Simpang Lima ke arah Sampangan.
Bila sempat coba juga kunjungi beberapa bangunan bersejarah yang berdekatan seperti Gereja Katedral Semarang dan Lawang Sewu (Tugu Muda). Beberapa tempat kuliner khas Semarang juga patut untuk dicoba, seperti jajanan dan lumpia di daerah Pandanaran atau warung pecel Bu Sumo di belakang rumah sakit Karyadi. Semua lokasi ini bisa dicapai dengan mudah dari gereja ini sekitar 10-15 menit dengan angkutan umum.
Rujukan berita: situs GKI dan Suara Merdeka .
Object:
Gereformeerd Church
Where at and how to get there:
Located next to Karyadi Hospital, and you can get these by public transportation that you take from Simpang Lima, direction Sampangan.
Highlights:
This church was inaugurated on October 27, 1918 and is presently used as the church for Gereja Kristen Indonesia (Indonesian Christian Church). During colonial times, this church was frequented not only by Dutch, but also Javanese, Ambonese (Mollucas), Manado and Chinese people. This church is well maintained and can accommodate up to 400 worshipers.
What to do:
Join services, marveling at the historical religious building. Just another 10-15 minutes drive from the church, you can visit neighboring historical sites such as the Semarang Cathedral and Lawang Sewu.
Culinary delights:
You can easily find Lumpia, the queen of the local delicacies nearby in Pandanaran area, or Bu Sumo "pecel" (veggie salad) food stall behind Karyadi hospital. These places are also only 10-15 minutes drive from Gereformeerd Church.